Accolades
- The
Studebaker
Avanti got great press all through 1963. A 1963 Avanti appears in the classic comic book, Archie Pals'n'Gals series, Giant series, Number 23, Winter 1962-1963. The full-page first panel has Reggie roaring to a screeching stop in front of Archie and Veronica.
"Holy smokes! It's Reggie! . . . in an AVANTI!" "It's not a Stanley Steamer, hot shot!"
The May 1962 Motor Trend honored the Avanti with its first
1963 Road Test
. In July 1962 Car Life said,
"The Avanti has the eager grace of a thoroughbred, looking as if it were ready to leap into action at any moment."
Canada Track & Traffic called it,
"A bold, fresh concept with an undeniable feeling of motion that makes Avanti's competitors seem decidedly old-fashioned."
Sportscar World said,
"Studebaker's startling Avanti has caused raised eyebrows among diehards in the American motor industry, who have already nicknamed it America's 'Ferrari"
. Car and Driver said,
"The Avanti is sensational for its appearance alone, and its performance places it in a class by itself."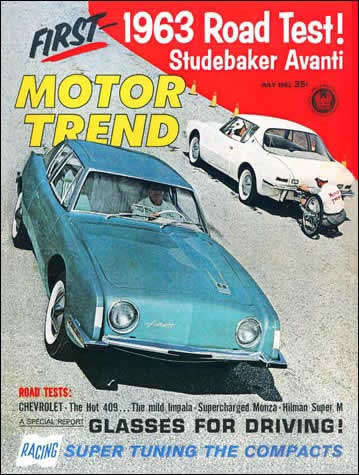 Motor Trend Magazine's road test of the 63 Studebaker Avanti in the May 62 issue.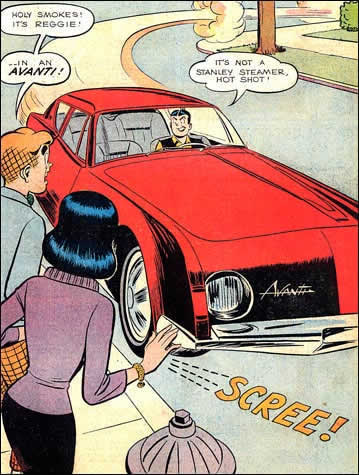 A 63 Studebaker Avanti appears in an Archie Comic book, Pals n Gals "Giant" series, copyright© 1962-63 Archie Comic Publications, Inc.