Studebaker
Avanti Technical
Specifications
These Technical Specifications pages are designed as a quick reference
for 1963-1964
Studebaker
Avanti models. This introductory page provides specs from multiple catagories. All the information provided is historic and is derived from Studebaker documents published between 1962 and 1964.
Studebaker Avanti Specifications

Engine
90° V-8 OHV, water cooled
Bore
3.56 in.
Stroke
3.52 in.
Piston displacement
289 cu. in.
Compression ratio w/o supercharger
10.25 to 1
Compression ratio w/supercharger
9 to 1
Brake horsepower
n.a.
Torque
n.a.
Brakes
Dunlop discs, 11 1/2 in. dia. front 11 in. drums at rear
Transmission/four speeds forward, one reverse


Syncromesh, all forward gears – Gear ratios: 1st, 2.51; 2nd, 1.91;
3rd, 1.51; top, 1 to 1
Front suspension
Coil springs and sway bar
Rear suspension
Semi-elliptic leaf springs and radius rods
Steering
Power steering, 3 1/2 turns lock-to-lock
Turning radius
37.5 ft.
Wheelbase
109 in.
Overall length
192.5 in.
Overall width
70.4 in.
Overall height
54 in.
Weight, unladen
3,000 lbs.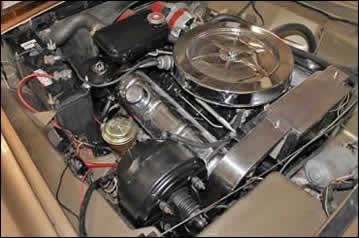 Standard 1963 Studebaker Avanti Engine.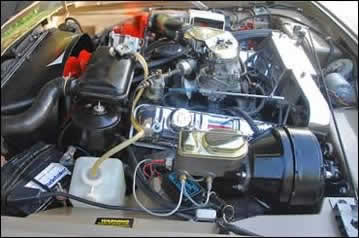 1964 Studebaker Avanti R2 engine.