The silver 1963 Avanti shown here was modeled by Toyota chief engineer, Yuichiro Obu. Obu describes his Avanti model as one of the all time best-styled coupes. Yuichiro Obu – "One of my friends said he had never seen one (an AMT 1963 Avanti) built well, which aspired me to build one myself. The kit was almost fifteen years old and I did not have sufficient information about the car's details to build the kit. Very luckily, the Toyota Museum displayed a mint-condition Avanti and I was able to obtain a lot of photos and information of the car's details. The doors, originally movable parts, were glued to the body to avoid bad fitting. The body shape looked fairly good. Only sink marks needed putty work. The hood needed corrections in the shape to mate the body, but still has steps from the body after being built. The body was coated with Finisher's Fine Silver as well as with Finisher's Auto Clear. Finisher's Fine Silver consists of very fine particles and gives an exellent shine. All the stainless steel parts as well as emblems were covered with Bare-Metal Chrome. I left the body color on the head lamp bezels and the head lamp covers undone to avoid 'toy-look detailing.' The grill looked wrong, so I did not attach it as seen in the real car at the museum."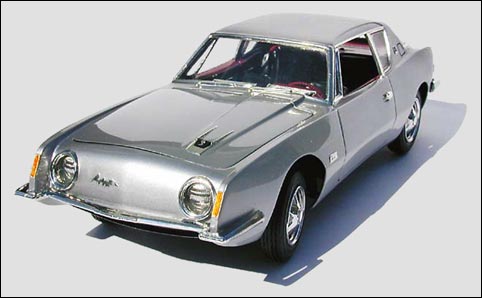 Front view of the 63 Studebaker model by Yuichiro Obu.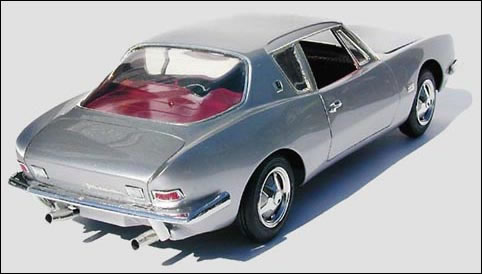 Rear view of the 63 Studebaker model by Yuichiro Obu.