At the forward end of the long hood, there is no grille. Air is ducted to the radiator through a scoop hidden below the slender, blade-like bumper. The hood is a simple, angular shape with no embellishments other than single headlights set slightly inboard and a tapering, hard-edged asymmetric rise starting with the Studebaker logo surrounded by a chrome panel and extending back to form a cowling that meets the interior instrument cluster. Fenders are severely indented at the body's mid-section. From belt line to rocker, the panels are curved inward, forming what is called a coke bottle curve (or coke bottle contour). The roof and tail are tapered to meet in a bobbed fast-back and the quarter panels merge into the deck with a dramatically swooping curve.
Studebaker Avanti Exterior Styling

Aerodynamic wedge styling

Reinforced fiberglass body

Heavy duty steel bumpers

Recessed door handles

Re-entry curve wheel openings

Front hinged hood

Large rear window

Contoured side windows

Luggage contoured trunk

Dual exhausts

Wrap-around tail lights

Large back-up lights

Aircraft-type instrument light

Tinted windshield and rear window

Six body colors: Black, white, gray, turquoise, gold, and red

Large air scoop

Single unit headlamps

Parking lights and directional signals integrated in fender

Asymmetrical hood

"Live" rubber inserts in front and rear bumper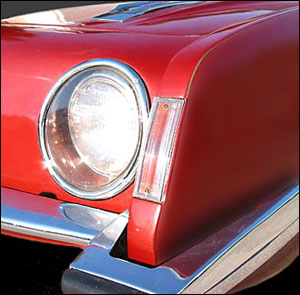 Forward thrust of wedge-shaped front.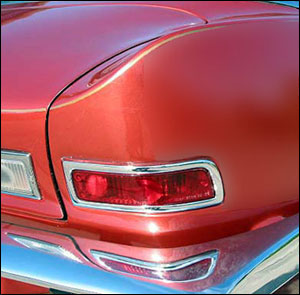 The swooping curve of bob-tailed rear.