Studebaker
Avanti Color/
Upholstery
Selector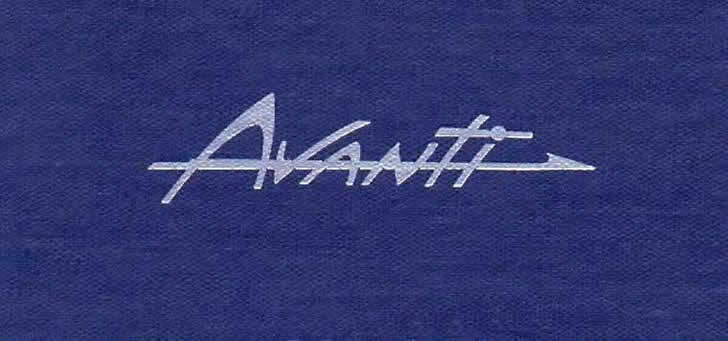 The original Avanti color and upholstery selector
that was used at the
Studebaker
dealer showrooms to choose interiors, exterior colors and other options when purchasing an Avanti also provided pages packed with scintillating facts. These tabbed pages at the back of the "Selector" included many interesting and nearly forgotten Avanti details (such as the Textileather brand name used on the fabric of the seats) and gives new perspective to some familiar features. There was a notable emphasis on the "Aerodynamic-Wedge" styling and on the influence of "Aircraft-Type" features.
Click here or on the images to view the panels
Upholstery & Carpet Samples
Paint Samples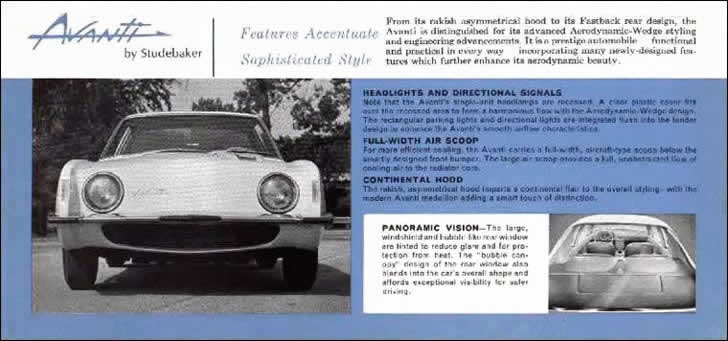 From its rakish asymmetrical hood to its Fastback rear design, the Avanti is distinguished for its advanced Aerodynamic-Wedge styling and engineering advancements. It is a prestige automobile – functional and practical in every way – incorporating many newly-designed features which further enhance its aerodynamic beauty.
Headlights and Directional Signals – Note that the Avanti's single unit headlights are recessed. A clear plastic cover fits over the recessed area to form a harmonious flow with the Aerodynamic-Wedge design. The rectangular parking lights and directional lights are integrated flush into the fender design to enhance the Avanti's smooth airflow characteristics.
Full Width Air Scoop – For more efficient cooling, the Avanti carries a full-width aircraft-type scoop below the smartly designed front bumper. The large air scoop provides a full, unobtructed flow of cooling air to the radiator core.
Continental Hood – The rakish, asymmetrical hood imparts a continental flair to the overall styling with the modern Avanti medallion adding a smart touch of distinction.
Panoramic Vision – The large windshield and bubble-like rear window are tinted to reduce glare and for protection from heat. The "bubble canopy" design of the rear window also blends into the car's overall shape and affords exceptional visibility for safer driving.